The Directors of Community Energy Cumbria are as follows:
 Phil Davies, Chair
Phil Davies serves as Chair of CEC. He brings a wealth of practical renewable energy and project management experience to CEC. Having lectured in Rural Economics and managed a series of high profile European rural diversification programmes, Phil has also led very practical, multi million pound energy efficiency and renewable retrofit programmes on social housing in west Cumbria. Phil recently served as the Social Enterprise Manager for Impact Housing, where he delivered a number of self-financing projects with community benefit, similar to those proposed by CEC. Phil was also responsible for setting up the Cumbria Green Build Festival in 2005 which now attracts over 1,000 visitors to over 50 exemplar, low carbon projects across the county. Since 2003, he has been responsible for bringing regional and international funding to public and private renewable energy initiatives within Cumbria.
Richard Scott, Director
Richard Scott was a plant scientist at the Centre for Ecology & Hydrology at Merlewood, Grange-over-Sands, working on coasts, moors and woodland; also part of a team assessing GB biofuels in the 1980s.  Since Merlewood he has been involved in the Furness Energy Partnership, Furness Greenways project, Walking for Health, and Baywind Energy Coop at Ulverston, as Board member and currently vice-chair.  Richard was on the Board of CoopsUK and the Coop College in Manchester and has wide knowledge of cooperative governance.  He recently joined the trustees of CAfS and has helped found Community Energy Cumbria.  He will bring his background and enthusiasm to the formation and running of new project groups.
Caroline Turner, Company Secretary
Caroline specialises in charity project management and development, having over 16 years' experience developing and delivering sustainability projects, mainly in the field of energy efficiency and renewables. Caroline also works part time  for Cumbria Action for Sustainability, and has helped co-found Community Energy Cumbria as part of a long term funding strategy and delivery mechanism for the organisation. Previously the Climate Change Officer for South Lakeland District Council, she developed their carbon management programme driving a 5% annual reduction in CO2 emissions and overseeing the council's first renewable installation.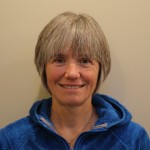 Jane Meeks, Treasurer
Jane qualified as a Chartered Accountant in 1988 at Armstrong Watson in Penrith where she was made a partner with responsibility for Keswick, Millom and Whitehaven regional offices. In 1998 she joined Robinson Udale, initially as a manager and then as a partner. She retired from private practice in 2016. Over the years she has gained a wealth of business and taxation experience, while acting for owner-managed businesses, charities and other not-for-profit organisations. Jane is now a (very) part-time finance director for a firm of Independent Financial Advisers, treasurer for a local organisation commemorating WW1 and a local climbing club.
Donna Munro, Director (co-opted)
Donna is an independent consultant with over twenty-five years' experience working in the renewable energy and sustainability sector.  Her particular focus is on the integration of renewable technologies into low energy buildings and communities, helping to put in place long term plans for sustainable and resilient social and economic systems.  Experienced in the management of projects ranging from large international projects to smaller local projects she has undertaken work for clients including: the International Energy Agency PV Power Systems Programme, Costains, the European Commission, Energy for Sustainable Development and the Energy Saving Trust. She is co-author of the book 'Photovoltaics in the Urban Environment, Lessons learnt from large-scale projects'.
Disclosure Statement Neither Community Energy Cumbria Ltd or its Directors have, at any point, been discharged bankrupt nor disqualified under the Company Directors Disqualification Act 1986 or to an order made under Section 429(b) of the Insolvency Act 1986.