Where is it?
The 29.7 kW PV array is sited on the courtyard roofs of the Lake Dis
trict National Park Authority's headquarters at Murley Moss, Oxenholme Road in Kendal, Cumbria (LA9 7RL). The LDNPA has recently invested in a comprehensive energy efficiency refurbishment programme, staff engagement and the installation of a biomass boiler, helping to drive down the building's greenhouse gas (GHG) emissions from 120 tonnes in 2007/8 to 64 tonnes in 2014/15, a reduction of 46%. The proposed solar photovoltaic panels will further reduce these emissions by over 10 tonnes per annum.
Why has the LDNPA HQ building been chosen for a photovoltaic array?
A series of considerations led Community Energy Cumbria to partner with the LDNPA. We were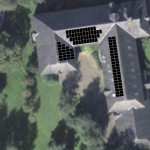 keen to find an organisation whose ethos, commitment to community, local employment, tackling climate change and/ or safeguarding landscape reflected our own values.
CEC also needed to find an organisation whose roof was:
Sufficiently large to make the installation of a solar PV array economically viable
The owners of which were prepared to purchase electricity from CEC and which would use a large proportion (if not all) of the electricity produced by the PV panels
From which the solar generating capacity would not be significantly impinged by aspect or shading
Which would not cause concern regarding visual impact
The project should have a firm chance of passing through the planning process (an earlier planning application for a similar PV scheme on the LDNPA HQ was passed by SLDC in 2011)
In addition, the Board of CEC felt that involving the LDNPA HQ in CEC's community renewable energy initiative would send a strong message to other public authorities and private owners of large roof spaces that there was a practical and ethical means of securing low carbon energy at a cheaper kWh rate than that organisation currently receives from the 'Big Six' energy providers.
Were it not for the goodwill and commitment of the staff, Senior Management Team and Board of the LDNPA and their belief in the wider ambitions of Community Energy Cumbria, this proposal would not have been possible.
Generating capacity
CEC contracted Sundog Energy Ltd to install a 29.7kW capacity of solar PV, generating 20,159kwh per annum of electricity, saving approximately 10,913kgs of CO2 per annum. Over the 20 years of the project, generation has been forecast to drop to 87% of the Year 1 generation levels. We are proposing to install solar PV panels sourced from Suntech Power and using 3 Fronius Inverters, both of which have a proven track record of efficiency and longevity. 110 panels covering 179.0m2 will be mounted on the 3 'courtyard' roofs of the LDNPA HQ. A full survey of the current and future shading effect from the surrounding birch trees and oak tree have been taken into account when projecting the generation figures.
Local Contractors
Sundog Energy Ltd from Flusco, near Penrith in Cumbria have been supportive of community energy since CEC was first proposed 5 years ago. Originally commissioned to carry out the PV installation on the LDNPA HQ in 2011, the company has remained committed to helping CEC become established, (see Partners Section). They have provided free advice and surveying throughout the process.
Costs
The total project cost will be approximately £45,000 + VAT.
Annual maintenance costs, insurance and management will be approximately £1,106, consisting of insurance, remote metering and annual administration costs.
Income
Annual Income in the first full year of operation is projected to be approximately £4,700 pa, consisting of the Feed in Tariff, 50% deemed export payments and solar PV electricity bought by the LDNPA. After annual maintenance costs, this leaves a surplus of approximately £3,700 pa in the first full year of operation for payment of interest, capital repayments and community benefit.
Risks: Technical, Legal and Financial
Like the Killington hydro scheme, no project is without risk, though the PV proposal at the LDNPA aims to minimise risks.
Planning Permission
A planning application has been submitted to South Lakeland District Council for the installation of the PV array. A very similar application for 30kW of PV on the LDNPA HQ was approved in 2011, though this permission has now expired. We are therefore confident that the submission of a new application in which all of the panels are now retained within the courtyard of the LDNPA HQ will be successful.
Lease
A Lease has been drawn up between CEC and the LDNPA (available on request) which limits both party's exposure to risk. This comprehensive lease covers matters including access, purchase price of the electricity and a series of opt out clauses should the LDNPA sell or lease the building during the period of the project.
Solar output
Figures for solar output have been calculated using industry standards, site specific aspect, roof angle and shading potential.
Maintenance of the Solar PV array
Extended warranties will be taken out against defects in the solar PV inverters during their lifetime. The systems themselves come with a 25year year guarantee. It is estimated that after 20 years, the panels will still generate at 87% efficiency of their Year 1 output. An annual decrease in performance has been accounted for in the projected income. CEC has budgeted a small amount for maintenance from year 5 onwards. The Lease stipulates that the Landlord (the owner of the roof space) cannot impede generation of the PV panels for more than 4 weeks in every year without compensation to CEC (for example, in the scenario that the Landlord needs to carry out routine or emergency roof repairs).